ACV Hair Rinse for oily hair/ dandruff/ extra shine!
Simply use in place of conditioner. It's also anti-fungal and antibacterial yet gentle on hair and scalp.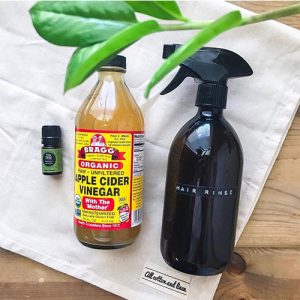 All you need:
•spray bottle
•Bragg ACV
•essential oil of choice (tea tree because it's good for hair health and can help hair grow)
•filtered water
Start by filling a 500ml spray bottle 1/3 of the way with ACV, and the rest with filtered water.
Then add 8-10 drops essential oil of choice depending on the size of your bottle.
Shake it up and you're done!
TO USE:
regularly shampoo hair and rinse then use this in place of conditioner, spraying hair from root to tip and let it sit on hair for 10 minutes then rinse.
Tags:
Bragg ACV
You may also like this