Avocados are more popular than every – and for a good reason:
they are delicious, versatile and packed with healthy fats!
To Celebrate Guacamole Day we share our very own Guacamole recipe – with a Bragg Apple Cider Vinegar twist of course.
Ingredients
3-4 Ripe Avocados
3 large cloves of garlic minced
1/2 large red onion finely diced
Handful chopped parsley (stems and all – make sure you rinse it first)
1 Spring onion
1 large tomato diced
Juice from 1 lime
salt & pepper to taste
1- 3Tbsp Bragg Apple Cider Vinegar
Optional: 1/2 Tbsp chipolte powder and/or cayenne to taste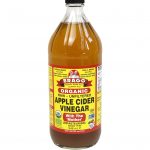 Instructions
Cut avocados in half, remove pit, scoop out in to bowl & mash with fork but keep it chunky.
Add onion, garlic, tomato, cilantro, salt and pepper, lime juice, and apple cider vinegar
Stir & taste. Add more salt and pepper or vinegar to taste.
For an extra kick add chipolte or cayenne powder.
This traditional Mexican spread goes well as a side dish (especially in barbecues!), as a dip with lovely crispy tortilla chips, or layered on toast… enjoy!
Tags:
acv
,
Bragg ACV
,
bragg apple cider vinegar
,
bragg apple cider vinegar recipe
,
vegan recipe
You may also like this