Thick, creamy & plant based mac n cheese ?? •
Ingredients: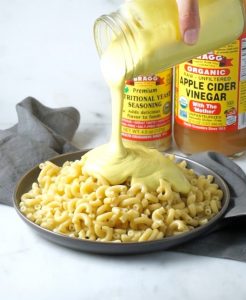 1 cup of cashews
1 cup of diced potatoes
1 cup of filtered water
1/2 cup of Bragg Nutritional Yeast
3 tbs of Bragg Organic Apple Cider Vinegar
1 tsp of onion powder
1 tsp of salt
1. In a small pot bring water to a boil and add potatoes and cashews. Cook until potatoes are fork tender (about 20 minutes).
2. Drain cashews and potatoes and add to blender along with remaining ingredients excluding pasta. Blend until cheese sauce is creamy smooth.
3. Begin to cook pasta of choice. Once pasta is ready drain and pour in cheese sauce. Stir well, serve and enjoy.
Tags:
vegan recipe
You may also like this