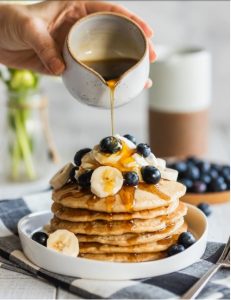 Ingredients
● 1 cup all purpose flour
● 1 tablespoon baking powder
● ¼ teaspoon salt
● 1 tablespoon ground flaxseed
● 1 teaspoon Bragg apple cider vinegar
● 1 tablespoon sugar
● 2 tablespoons coconut oil, melted and
slightly cooled
● 2 teaspoons vanilla extract
● 1 cup + 1 tablespoon unsweetened
almond milk (or non-dairy milk of
choice)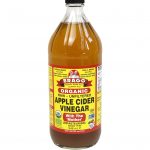 Preparation
1. Whisk together flour, baking powder
and salt in a medium bowl. Set aside.
2. In a large bowl, mix together the
flaxseed, apple cider vinegar, sugar,
melted coconut oil, vanilla until
combined.
3. Add the dry ingredients to the wet
ingredients and mix just until
combined.
4. Heat a griddle or skillet over medium
heat and coat with coconut oil.
5. Pour 1/3 cup of the batter to the
griddle for each pancake and cook for
3-4 minutes until set and bubbles
begin to form. Flip and cook until
golden brown, about 1-2 minutes
more.
6. Repeat with remaining batter, adding
more oil as necessary.
Tags:
acv
,
Bragg ACV
,
vegan recipe
You may also like this