These Vegan Courgette rolls look great and taste heavenly! And doesn't zucchini just make them sound that much more exotic?
Ingredients:
For the tomato sauce:
1 tbs Extra Virgin Olive Oil
2 cloves of minced garlic
1/2 tsp of dried oregano
3/4 tsp Bragg Sprinkle
2 1/2 cups of diced vine ripe tomatoes
1/4 tsp of pink salt
1/4 tsp of black pepper
For the "cheese":
1 cup of cashews
3/4 cup of filtered water
1/4 cup of Bragg Nutritional Yeast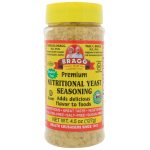 1 clove of garlic
1/2 tsp of pink salt
1 tsp acv
3 zucchini's sliced into strips
Directions
1. In a small pot on medium heat add olive oil, garlic, oregano, and sprinkles. Stir until fragrant and add tomatoes, salt, and pepper. Let sauce simmer for 20 minutes.
2. In a blender combine all ingredients for cheese excluding basil. Blend until smooth and transfer to a bowl and stir in basil. Preheat oven to 350° F.
3. Once sauce is ready transfer to a blender and blend until smooth. Pour sauce into a cast iron pan or baking dish.
4. Grab zucchini strips and scoop a spoon size amount of cheese down each strip and roll. Place rolls in pan and repeat until finished.
5. Bake in oven for 25 minutes. Once rolls are ready remove from oven and garnish with fresh basil and nutritional yeast. Serve and enjoy.
Tags:
vegan recipe
You may also like this